5 Best Flea Markets in California

Since Christmas is coming and everyone in preparing, we know that you are now starting think if where you can buy good to great gifts that you will give to your loved ones. Some chooses to buy online because there are more option and variety but the chance for you to see its quality especially for new items to order just can't be done. So if you want to buy online, do it in your most trusted shop. But, some still choose to buy in the mall though sometimes it's crowded and items are expensive. Shopping malls are preferred by those who wanted to buy items at its best quality with enough budget to buy it. For those who have a tight budget but wanted to handpick the gifts that he will buy, flea markets are the best option.

Flea markets are set of small stalls or stores that are stationed in one area. Flea market are sometimes temporary. There are flea markets that closed down when it is not on season. But there are some flea markets that are already permanent on the place to serve the community not just for gifts for Christmas but also for your everyday need. In California, there are a lot of different flea markets, some has assorted items being sold and some has a theme, like for antiques, for clothes and etc.

We know you wanted to know where the best flea markets in California are. No worries, we have listed some of the best flea market to help you out!

1. Alemany Flea Market - San Francisco, CA
https://asideofsweet.com/things-to-do-bernal-heights-san-francisco/

This might not be one of the largest and most popular flea markets, but it houses a lot of valuable treasures. The items sold are not displayed in the best way possible but is randomly put on the time and they'll let you find whatever it is that you might like. If you want to go to the place, make sure you drive and arrive early because the traffic might eat all of your time.

2. Jamestown Village Vintage Flea Market - Tustin, CA
https://www.fleamarketinsiders.com/california-flea-markets/

If you're looking for vintage, antiques and classic items, this is a good place to go. It has a vast array of collectibles from all over Southern California. There are a lot of rare vintage finds in the place. From the smallest dolls to typewriters to old fashioned bikes! This flea market is a trip down to memory lane so you might want to buy something here for your grandparents. The place is only open every fourth Sunday of every month from 8am to 3pm.

3. De Anza College Flea Market – San Jose, CA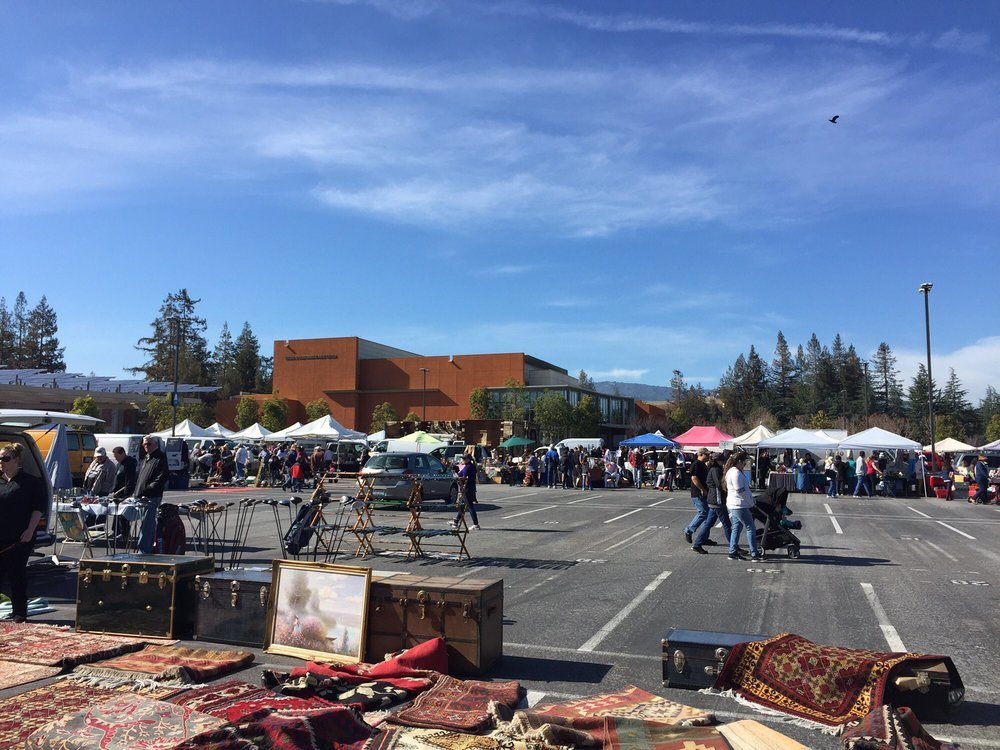 https://www.timeout.com/san-francisco/shopping/de-anza-college-flea-market

If you want to buy something that gives back, this is a pretty awesome choice. Proceeds from this flea market will benefit the students, you might be able to help someone to buy his needs in school or pay for his school fees. If you're afraid that there might be few items here, no worries as there is a large variety of items sold in the place. How large? Well, items here goes from small toys to potted plants to delicious churros.

4. Arts District Flea Market – Los Angeles, CA
https://www.pinterest.com/pin/484840716112093091/

If you're not into shopping along the street, under the sun's heat then this is the place for you. This indoor market is 15,000 square feet housing local vendors and artists offering new and vintage items. Aside from the things you can find, the place is also lovable. You might love to take pictures here as well. This flea market is open thru Thursday to Sunday. Finding no items here to love is highly unlikely.

5. Melrose Trading Post – Melrose, CA
http://initialsla.com/melrose-trading-post/peintures/

This is another market that gives back. Items sold will benefit the teachers and students at the schools. Plus, there are a large variety of items as well. If you're into painting and decorating your home or knows someone who does, this might be a perfect place to buy affordable art pieces. But, aside from art pieces, there are clothes, antiques, vintage collectibles and a lot more on the place. It's not just that! As you may hear the sounds of local musicians and poets and be entertained by dancers and theatrical performances from community members. You will never feel tired of walking around with this type of entertainment!
Well, this is just five of the best flea markets in California and this are just from 5 cities. Some has more than one flea market in their place and there might be one great flea market near you. If you feel you know a place that is really good to buy stuffs at, please share it with us so we can help those who don't know where to go as of this moment!