5 Most Exciting Places to Pick the Best Halloween Pumpkins
Hey! It's October! We know you know what it means… Halloween! Can you feel the season yet? Are you starting have the Halloween vibe? If yes, we know you're all set and ready for it. What's with Halloween? Trick or Treat! Well, that's not all, it's time to see scary pumpkin lanterns! For those who are in to decorating their houses during this season, having some scary pumpkin lanterns outside your door is one important thing. Aside from giving some light on Halloween's dark nights, it also adds some creepy feeling to it as the terrifying carvings on the pumpkin glows and will make you think that they will haunt you in your dreams. If you'll be carving your own pumpkin, we know that you want to have it in different forms and sizes. Looking at your everyday supermarket stand might be able to give you some but the best place to search for one is on a pumpkin patch.
Well, if you're from California, you're lucky because the state really has lots of pumpkin patch. If not, well, California is the best place to look for one. Here, we'll give you a list of the best pumpkin patches in the state.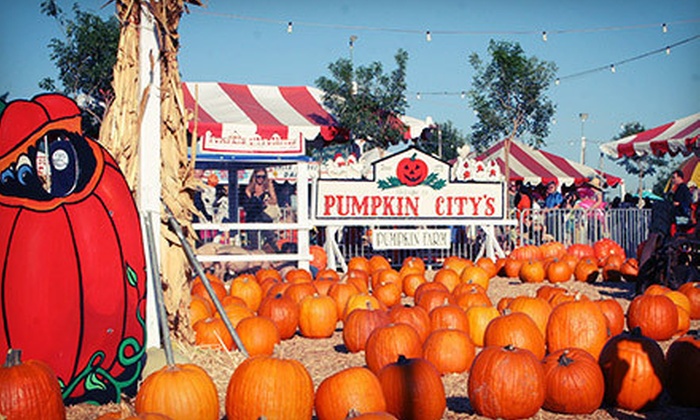 https://www.groupon.com/deals/pumpkin-city-s-pumpkin-farm-2
This place is such a fun place to pick and get a pumpkin. In 1978, they started with pick-up load of pumpkin and now it has grown to California's largest leading Harvest Festival. Pumpkin City is one of the oldest pumpkin patches in California. Aside from pumpkins, they also have a Petting Zoo where you can interact with animals, Pony Coral where you can ride on a pony, and a puppet show. So, now you know that you're kids will really enjoy visiting the place as they will go home not just with a pumpkin but with a great farm experience. This patch is located at Laguna Hills, CA.
http://independentfilmnewsandmedia.com/website-week-rileys-farm/
This farm located at Oak Glen, California will make you travel back it time as it gives you the 19th century colonial life feeling. Well, aside from that blast of the past they will also be able to provide you with all types of pumpkin, from round ones to oval to small and large ones and more! But take note that they have a limit of five pumpkin per family and it is sold per pound. You can take a hike and pick out whatever pumpkins are perfect for you.
http://www.laweekly.com/event/mr-bones-pumpkin-patch-7277317
The farm is a family-owned and operated business that was founded in 1987. The patch is located in Culver City, CA and has become a holiday mainstay in the area. Aside from pumpkin picking, the farm will also allow you to enjoy the place with several other activities it has in stored. They have straw maze, face painting, pony rides, petting zoo and a lot more. You're whole family will surely enjoy the place! What makes pumpkin patch stand out among others is the Mr. Bones' Super Slide and Straw Maze to get lost in. The price of the pumpkin will depend on its size so prepare your money if you want to buy big ones.
https://patch.com/california/culvercity/calendar/event/20161022/47708/free-pumpkins-at-shawns-pumpkin-patch-in-los-angeles-thanks-to-the-helpful-honda-guys
Located in Los Angeles, CA, this patch will give the best pumpkins you're looking for! They have that that perfect, long stem, "chubby face" pumpkin. Well, aside from choosing the best pumpkin, this place will also make it hard for you to choose what activity you want to do first because they really have a lot to offer. They have straw maze to get lost in, bungee jumping, pumpkin carving, train rides, sand art, giant slide, petting zoo, arcade games, and a lot more! The kids and kids at heart will not get bored in this place due to its fun packed activities.
https://ocmomblog.com/irvine-park-railroads-12th-annual-pumpkin-patch-giveaway/
This patch is located at 1 Irvine Park Rd, Orange, CA. The patch is open 7 days a week so if you want to avoid the weekend crowd, you may visit them during weekdays. Aside from offering pumpkins, the place also host tons of events and gathering. Well, with that, it is safe to say that the farm is one exciting place to visit! Activities here include picking your own pumpkins, riding their famous Irvine Park train, tractor races, a bounce house, taking a tractor ride around the park, entering a haunted house, and enjoy delicious food. Aside from these, they also have a corn maze, cookie decorating, carnival games, face painting and a lot more activity that the whole family will surely love!
Who would have thought that pumpkin picking could be this fun? These farms will really make sure that you'll enjoy your entire picking day when you visit their place! But hey, those are just five pumpkin patch that the state has, there's more! So why not check out the one near you or go and explore for more!