10 of the Weirdest Burritos You'll Find in California!
 SHOP CALIFORNIA REPUBLIC TEES - New Designs for men & women



Anaconda Burrito – Taqeuria Yarelis, Fresno, CA



The anaconda burrito at Taqeuria Yarelis is crafted by stuffing five large tortillas with meat, cheese, beans, salsas, pico de gallo, and special sauces. The monstrosity weights five pounds and is three feet long!

Sushi Burrito – Jogasaki Food Truck, Los Angeles, CA


Love sushi? Love burritos? Can't choose which to have for lunch? You don't have to! At Jogasaki's popular Los Angeles Food Truck, you'll find a wide variety of sushi burritos! This month's special is the Spider Burrito: filled with deep fried soft shell crab, crab meat, avocado, cucumber, radish sprouts, and yamagobo.

Pineapple Thai Burrito – Una Mas, San Jose, CA


Blending Thai food with a classic Mexican dish, Una Mas has created the most delicious ethnic food fusion in their Pineapple Thai burrito. The burrito boasts your choice of slow-cooked and marinated chicken or steak, Spanish or cilantro rice, and cilantro and sweet chili sauce, all wrapped up in a warm tomato tortilla.

Redefined California Burrito – Albatro's, Lake Forest, CA

While the typical California burrito consists of grilled chicken, rice, black beans, sour cream and cheese, lettuce and fresh pico de gallo, the redefined "California Burrito" is on the opposite spectrum of the fresh California stereotype. Loaded with crispy French fries and topped with melted chedder cheese, sour cream, and the works, Albatro's California Burrito redefines what is means to order a California burrito.

Epic Kabob Burrito – Mini Kabob, Los Angeles, CA

Mini Kabob is an American grill, offering dishes with a dash of Egyptian inspiration. Their kabob burrito caters to the American familiarity of the burrito while offering a splash of ethnic flavor to keep your taste buds excited. Chicken, tabbouleh, and hummus with a kick are snuggly wrapped in lavash bread to achieve this delicious middle-eastern flavored masterpiece.

Orange Chicken Burrito – Panda Express, Pasadena, CA


At select Panda Express locations, the Asian fast-food chain is offering their guests a chance to indulge in the orange chicken burrito. Assembled in a scallion pancake that acts as the "tortilla", classic orange chicken, teriyaki rice, and Asian-style stir fry vegetables make the dish burst with oriental flavor.

Brisket Burrito – Ray's BBQ, Huntington Park, CA


Ray's BBQ has one of the most obnoxious comfort food burritos in the golden state. Behold the brisket burrito. Mac n ' cheese, BBQ beans, smoky and tender brisket, and a spicy jalapeno cheddar sausage are stuffed inside of a large tortilla – and in an instant, you no longer feel like you're in California anymore.

Teriyaki Cheesesteak Burrito – Ninjas with Appetite, Santa Ana, CA


Teriyaki. Cheesesteak. Burrito. Is there anything else you could possibly need in life? Thanks to Ninjas with Appetite in Santa Ana, we can die happy knowing that we've had the opportunity to experience this decadent blend of teriyaki beef, gooey cheese, and rice. Drool!

Phoritto – Komodo, Los Angeles, CA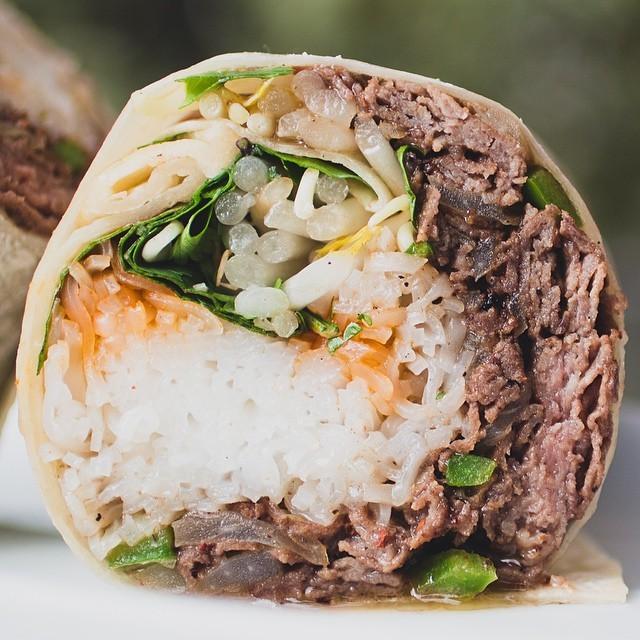 Mmmmm. Who doesn't love a good bowl of traditional Vietnamese Pho? What could be better? At Komodo, you have the option of ordering your Pho on-the-go with their Phoritto. Pho+Burrito=Phoritto. Delicious.

Poke Burrito – The Low Key Poke Joint, Los Angeles, CA

The poke burrito, similar to the sushi burrito, is a Hawaiian inspired culinary creation. While Poke was typically served as thin slices of raw fish tossed in spices, the burrito has fused traditional poke flavor with the American need for all things burritos. Thanks to The Low Key Poke Joint, we get to enjoy this delicious new spin on a two-in-one version of ethnic classics!