California is the state with the most beautiful beaches. Simply because it lies in the Pacific and almost every beach will give you an amazing view of the sunset. The soft and warm sand and the clear waters is really something most people in the state and several tourists go back to. But did you know that there are some beaches in the state cannot be accessed by the public?
This has been an issue in the state for decades now. This is why the California Coastal Commission made it clear that "…all beaches in the state are public land below the mean high water level." This means that all beaches should be open to the public. But, there are still some beaches that is blocked for public admittance. How? This is because of some private land that surrounds the place and some other restrictions. This is sad because in some aerial shots, this beaches are really beautiful. Well, the fact that it is closed for public use simply shows that this beaches is not abused and was able to preserve its virgin beauty.
Several of these beaches have fences and signs that prohibits the entry in this beach communities. You will usually see "Keep Out", "No Trespassing", "Right to Pass by Permission" and other more signs that is attached to those tall gates. Though the commission is trying their best to make every beach open for public use, there are still some beaches that they cannot control. The issue with this beaches is that there can be some inland property owners that conspire to keep the public away. This simply means that the owners of the land around the beach agreed to block the access of the public to that particular area. Well, it will really be a bit hard to access this areas especially if the only way to see them is too cross some private properties.
https://www.californiabeaches.com/beach/gaviota-state-park-beach/
Two of the largest privately owned and gated coast that keeps the general public out is the Hollister Ranch and Coco-Jalama Ranch. Hollister Ranch is a 14,400 acres of uncultivated and abundant fields, mountains and valleys along the Pacific coast. The land was purchased after the Civil War as part of a large acquisition. It continues to be privately owned, and is one of the last remaining undeveloped coastal areas in California. On the other hand, Coco-Jalama Ranch, a 25,000 acres land that includes eight miles of coastline, coastal plains, and inland valleys located at the western end of the Santa Ynez Mountain Range. The beach is completely surrounded by private property and the only access road is gated. The beaches in this areas are two of the biggest and greatest beach -  Gaviota State Beach north of Santa Barbara and Jalama Beach near Lompoc. If you really want to see these beaches, boating is the way.
https://www.tripadvisor.com/LocationPhotoDirectLink-g240329-d116837-i120270358-Point_Sur_State_Historic_Park-Big_Sur_California.html
Another large ranch block that blocks the access to three gorgeous beaches is the El Sur Ranch. This is located on the Big Sur coast of California, has been continuously operated as a cattle ranch since 1834. The first beach blocked by this ranch is the Point Sur Beach. This is located below and to the north of Point Sur Lighthouse. The lighthouse is open to the public so you will be able to see this beach through that place. The next beach is Little Sur River Beach. This beach is complete with a rock arch that unfortunately, the public won't be able to see up close. The third one is the Swiss Canyon Beach. This is one of the newest private beaches in this list. It is the long sandy beach that's visible when looking north from Andrew Molera State Park. This previously has an access road used by the public that do not cross any private property but was still gated.
http://www.russcolegrove.com/Photo%20Pages/California/Gamboa.htm
Big Sur is such an amazing place but unfortunately has some other private beach that is not within the El Sur Ranch. The Gamboa Point Beach is privately owned. It sits in a cove far below Highway 1 and has several palm trees line the grassy landing at the back of the beach and large some large rocks. It is really sad that the public won't be able to enjoy the beach's beauty.
https://www.californiabeaches.com/beach/martins-beach-half-moon-bay/
Red White and Blue Beach near Santa Cruz was used for photoshoots of some clothing line. Before, you only need to pay some amount to the owners so that you can enter the area. But, for some unknown reason, they have locked the area and is not allowing anyone from the public to enter. Let's just hope that this is for some rehabilitation purposes and that they will open it again soon so that we can enjoy it even just in some photos. Martin's Beach has a similar case but fortunately, the commission was able to win the case for it. Let's enjoy it as long as it is open for public use because we can never really tell when the owner will take another fight for it to be closed down.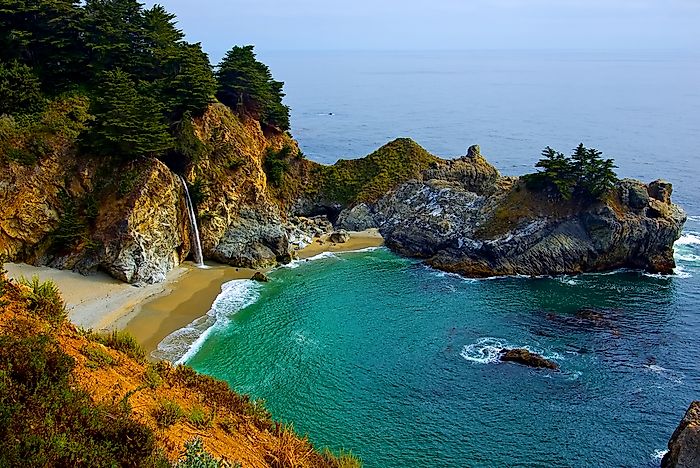 https://www.worldatlas.com/articles/the-enchanting-mcway-falls-of-julia-pfeiffer-burns-state-park-california.html
Are you familiar with Wilder Beach? If not, we do understand because this is one of the never seen beaches in the state. This is a large beach below the old Wilder Ranch property. Sadly, this beach is permanently closed to protect bird habitat. Well, at least they closed the area to protect the birds and not just because they want to enjoy it for themselves. There is another beach that is not too popular because it is privately owned. This is a very majestic Julia Pfeiffer Burns State Park. This is a sandy beach with an amazing waterfall and some greens on the side. A real picture perfect land. To have that as a view on any special occasion will really make that day exceptional.
https://www.10best.com/interests/vacation-ideas/emerald-bay-in-winter/
Laguna Beach is one of California's go-to place if you want to enjoy some time in the beach but there are some areas here that are gated as well. First is the Emerald Bay. This is located in gated community of Emerald Bay in North Laguna Beach. So if you know someone in that area, then you are lucky because they can give you some access to that beach once you visit them. Next is the Irvine Cove Beach that is also in the same location with the same situation. But Moro Beach, a public beach up north, will give you a sight of this beach. Lastly, the Three Arch Bay Beach which has the same situation but is in South Laguna Beach. The beach is walled from end to end by some cliffs and with some homes so there's really no access to it even from some adjacent beaches.
We know that the commission is striving hard for every people in the state to enjoy this mesmerizing and abundant beaches. For those beaches which you can still go to through some adjacent beach, enjoy the access up to the mean high tide line while you still can, we never know what can happen next. Let's just hope that one day, this beautiful places will be seen by many. But, once that time arrive, let's not forget that we have to do everything to protect it so that the next generations will still see it.