Disneyland is one of the most popular theme parks in the world! It is known for its crazy and fun rides, colorful parades and creatively designed stalls. And because of this things, Disneyland around the world are always filled with locals and tourists. But, there is really one thing you shouldn't miss when in the park- FOOD! Yes, aside from those rides, you will surely be pulled into each food stalls you will see. Why? Simply because it's unique and it really looks tasty.
Each food stalls and restaurants in any Disneyland park do their best to create items that will set them on top of others. This food should be something that will really make a mark on its customer, may it be on its taste or how it looks. And since there are tons of food and drinks to try, we have listed 20 must try food and drinks in Disneyland.
Bacon mac and cheese cone from the Cozy Cone Motel
https://www.yelp.com/biz_photos/cozy-cone-motel-anaheim?select=nTlPX09hmUKutRS4e9o3hQ
If you think you have tried all sorts of mac and cheese but you haven't been to Disneyland, then you are wrong! And, we are telling you that you are missing out on one of the best one as well! Aside from the fact that it is served from handy bread cone, it is also chili and cheesy. It's not that big but can still fill your stomach while you walk around the park.
Mickey Beignets from the Mint Julep Bar
https://la.eater.com/maps/best-food-dishes-disneyland-eats-anaheim-los-angeles
Anything that is shaped like Mickey's head is cute and this beignets is an item to try. A warm beignet covered with powdered sugar paired with a hot coffee will be a great breakfast inside Disneyland park. In fall, they also offer Pumpkin Beignets dusted with cinnamon and sugar.
Tigger Tail from Pooh's Corner
http://dapsmagic.com/category/guides/geekeats/disneyland-vegetarian/
Are you a fan of the Disney character Pooh? Well then you might know who Tiger is and if not, we are sure that you will still want to try this very attractive Tigger Tail Marshmallow Wand. It is a handmade marshmallow dipped in caramel and chocolate. A really amazing treat for those who are craving for sweets.
Hand-Dipped Corn Dogs from Corn Dog Castle at Paradise Pier
https://www.ocregister.com/2016/01/04/corn-dog-castle/
It looks like a plain corn dog but it might be the best that you will have. This is a budget friendly and on-the-go option for your lunch, dinner or a heavy snack. But, if you are not into standing in long lines, better go early lunch or dinner since this is a very popular treat.
Turkey Legs at Edelweiss Snacks
https://disneylandeats.com/2016/03/04/jumbo-turkey-leg-don-tomas/
Chicken is good but turkey is better and bigger! This turkey legs will surely make your eyes drop. It is very big and this salty roasted leg is really delicious that you will not refuse buying another one on your next trip.
Mickey-Shaped Pretzels
https://www.tripadvisor.com/LocationPhotoDirectLink-g29092-d186690-i249553144-Disney_California_Adventure_Park-Anaheim_California.html
Like what we said, anything that has a shape of Mickey's head is worth trying! This might be the best option to eat if you do not want to stop going on rides. Hot or not, this is really something to try.
Dole Whip at Tiki Juice Bar
http://www.disneyfoodblog.com/2010/05/05/disney-dole-whip/
This is a classic favorite in the park. A light and refreshing way to cool down on a hot and sunny day. Whether you get it on its own, with juice or with Tajin seasoning dusted on top, you will still love it!
Raspberry rose macaroon from Jolly Holiday Bakery
https://disneyland.disney.go.com/dining/disneyland/jolly-holiday-bakery-cafe/
This is a really delicious French Macaroon that might be your favorite snack inside the park. Aside from the fact that it is shaped like Mickey's head, it also has fresh raspberries that really made the macaroon more flavorful.
Jolly Holiday Combo at Jolly Holiday Bakery Café
https://la.eater.com/maps/best-food-dishes-disneyland-eats-anaheim-los-angeles
If you are a fan of grilled cheese, then this is something that you wouldn't want to miss out. This is served with a cup of tomato basil soup that will made this a lot tastier! This two are really a perfect pair!
Chocolate Chip Cookie from Pooh Corner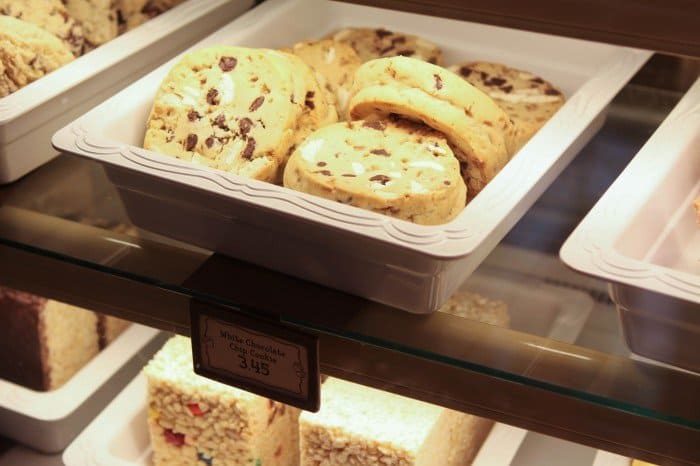 https://picky-palate.com/disneyhungry/review/pooh-corner-bakery/
This might be the cookie of your dreams! It is large and looks hard but when you take a nite, it is really chewy which has been the goal of almost all cookie makers. Plus, it's really chocolatey as well.
Large Swirl Soft Serve Ice Cream from Paradise Pier Ice Cream Company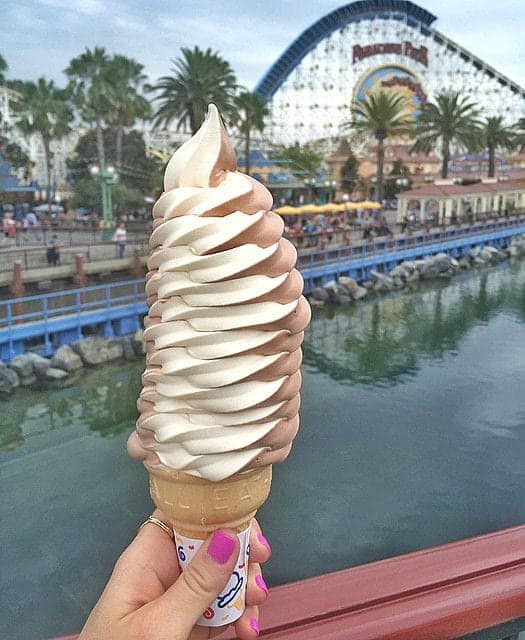 https://picky-palate.com/disneyhungry/review/best-ice-cream-at-disneyland-resort/
If you are into anything big and you want something that will make you feel a little cooler, then this ice cream is worth running for. It is served in a large wafer cone and will definitely be a head turner as you walk around holding it.
Churro from Disneyland Churro Cart
https://disneyaddicts.com/11-great-disney-parks-churro-flavors-wont-want-miss-267528/
Churro is a Disneyland favorite and you will really see one in every corner of the park. This is because it is really great that most visitors would love to try it. And, the fact that there are several carts selling this around, you will be able to enjoy it hot and fresh.
Clam Chowder is a Sourdough Bread Bowl from Pacific Wharf Café
https://www.number-2-pencil.com/29-amazing-things-to-eat-and-drink-at-disneyland/
If you are feeling a little cold and you want to sit down and enjoy a hot and tasty treat, then this clam chowder served in a Mickey shaped bread bowl is something that you should try. It's a really creamy and corn-filled treat that is also great for lunch and dinner.
Lobster Nachos from Cove Bar
https://www.themeparkinsider.com/flume/201601/4904/
This delicious snack is a crowd favorite. It is made from homemade tortilla topped with lobster and fixings. The dressing compliments the nacho and the lobster pretty well that it made it really flavorful.
Skewers at Bengal Barbecue
https://la.eater.com/maps/best-food-dishes-disneyland-eats-anaheim-los-angeles
If you are into barbeque or want to load some protein, then this is the one to have. The food stand serves up sticks of beef, chicken, vegetables and bacon-wrapped asparagus that is all pretty flavorsome and can give you enough protein for the whole day.
Pomme Frites at Cafe Orleans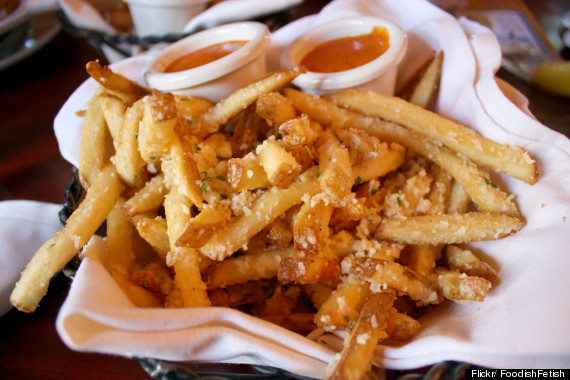 https://www.huffingtonpost.com/2015/10/14/disney-food_n_6391754.html
Great for fries lovers, this Pomme Frites is served in different amazing flavors. This must-order thin cut fries is served in garlic, parmesan, and parsley and with a spiced rémoulade for easy dipping.
Fried Pickles at Carnation Café
https://la.eater.com/maps/best-food-dishes-disneyland-eats-anaheim-los-angeles
This parmesan and bread crumb coated treat is really something to try as it brings back the taste Walt's favorite food. This is best for those who do not want to feel too full and wanted to try more snacks around the park.
Fried Biscuits at Carthay Circle Restaurant
https://la.eater.com/maps/best-food-dishes-disneyland-eats-anaheim-los-angeles
This is a really delightful and exciting treat. These Carthay Circle bread balls packed with morsels of bacon, jalapeño and white cheddar that each flavor explodes in your mouth in every bite! You will surely finish this up to the last piece!
Fun Wheel from Cove Bar
https://www.pinterest.ph/pin/429741989429041683/
This is something that you must remember because you won't be seeing it in the bar's menu. This is an alcoholic mix that is fruity and delicious. Just make sure that you can still roam around the park and enjoy the rides after drinking or better yet have a glass of this before heading home.
Ocean Beach Sea Salt Caramel Sundae from Ghirardelli Soda Fountain and Chocolate Shop
https://www.pinterest.ph/ghirardellico/with-a-cherry-on-top/
Sweet and salty, this sundae is really worth every penny. Disneyland might be filled with a lot of ice cream treat, but this one is a real must-try. It looks great and it really taste amazing!
This is our top twenty. There are a lot more foods and drink inside Disneyland that we might have missed out, so PLEASE LET US KNOW! Have a great time in riding, strolling and eating inside the happiest place on earth!